What's Inspected During A Home Inspection
I am often asked "What is a Home Inspection and how do you do it in Madison and Jackson, Mississippi?" I generally start at the outside of the home and inspect the grounds, the siding, windows, doors, roof, electrical, and HVAC components first. And, then I work my way into the interior and garage areas, finally getting to the attic areas. In my reports I use a lot of pictures. Pictures are a wonderful tool and tell a great story. So, you will see me walking around the property with a digital camera, electrical testing meters, laser thermometers, flashlights and mirror.
If your Jackson area home has a crawl space, I save it for last. It is a nasty job; and can only best be done after the interior of the home has been toured. If your home has a crawl space, I want to know about where the showers, toilets and sinks should be located so I can make a thorough inspection of that area in the crawl space. I carry coveralls and a big flash light with me to every inspection to ensure that nothing will be missed and as your Jackson Home Inspector, I will work for your peace of mind during this trying time of purchasing your new home in the Jackson area.
The typical home inspection report that I generate in Jackson, Brandon or Madison is 25 to 35 pages long. In that Custom Report, not only will I provide a list of all the items I inspected, I'll even list those items I could not get to for one reason or another. In most instances, I'll include how to repair any known defect. If the crawl space is too low to enter (and some fifty year old or better homes especially in the Jackson area), then the crawl space can't be inspected, but you deserve to know if it was not entered. If you are having an home inspection done on an occupied house and the current residents have an attic or garage full of storage items, I might not be able to move the contents to inspect and again you need to know this. I also have to take care not to damage anything or personal property during the inspection out of respect for the current owners.
My reports are thorough and they take time to generate. My standard operating method of delivery is via the internet, usually available over night. Once I have completed your report, you can log onto the account I will give you. Once there you can view the home inspection report or print it as many times as you wish for a period of five years. This feature is particularly good for couples who may be relocating from another area of the country while one may be here in the Jackson, Mississippi area and the other hundreds of miles away. If you don't have internet access, I can provide printed copies.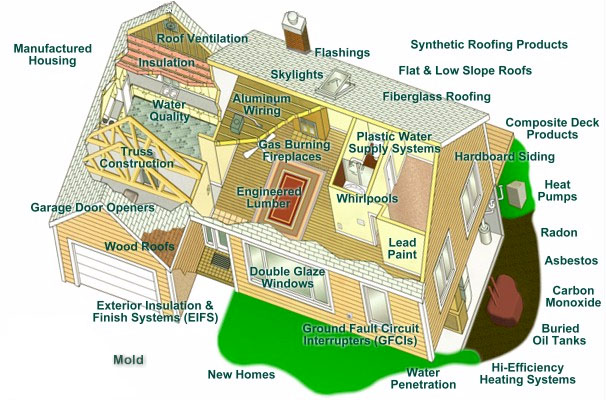 Inspection Description for a Professional Home Inspection in Jackson, Madison, Ridgeland, Brandon, Clinton and All Other Cities in the Metro Area.........
Structural System Inspections - this includes the foundation, floor structure, wall structure, ceiling structure, and roof structure, as well as inspect under-floor crawl spaces and attics

Exterior Inspections - this includes all siding, flashing, and trim, exterior doors, attached or adjacent decks, balconies, stoops, steps, porches and associated railings, eaves, soffits, and fascias, any vegetation, grading, surface drainage, and retaining walls also adjacent entryways, walkways, patios and driveways

Roof System Inspection - this includes the roofing materials, roof drainage system, flashing, skylights, chimneys, and roof penetrations

Plumbing System Inspection - this includes interior water supply and distribution systems including all fixtures and faucets, drain, waste and vent systems and fixtures, water heating equipment and hot water supply system, vent systems, flues, and chimney, any fuel storage and fuel distribution systems, drainage sumps, sump pumps, and related piping

Electrical System Inspection - this includes service drop, service entrance conductors, cables, and raceways, service equipment and main disconnects, service grounding, interior components of service panels and sub panels, conductors, over current protection devices, a representative number of installed lighting fixtures, switches, and receptacles, ground fault circuit interrupters

Heating System Inspection - this includes open readily open able access panels, installed heating equipment, vent systems, flues, chimneys

Air Conditioning System Inspection - this includes open readily open able access panels, central and through- wall equipment, and distribution systems

Interior Inspection - this includes walls, ceilings, floors, steps, stairways, railings, countertops, representative number of installed cabinets, representative number of doors and windows, garage doors and garage door openers

Insulation and Ventilation Inspection - insulation and vapor retarders in unfinished spaces, ventilation of attics and foundation area, mechanical ventilation systems

Fireplaces and Solid Fuel Burning Appliances Inspection - this includes the system components, chimney and vents, fireplaces and solid fuel burning appliances, chimneys
Please know that a home inspection does not include:
Cosmetic items such as small dings, carpet stains, paint, wallpaper,small cracks, etc...

Life expectancies of or the inspection of temporary appliances.

Cost of repairs or instructions on how to correct them. I cannot give you a price or perform the repairs. I suggest getting 2 or 3 estimates from licensed local contractors before repairs are done.

Moving sellers personal items or furniture to inspect behind them.

Energizing or turning on utilities, pilot lights, control valves, etc..

Lastly, it is not designed to be a fix all list. The inspection is intended to inform you on the condition of the home at the time of the inspection, allowing you to make an informed decision.
Whether your purchasing or selling a home in Jackson, Madison or Brandon, Mississippi, a call to Echols Home Inspections, LLC at 601-942-9260 will give you peace of mind knowing that you have done your absolute best to educate yourself on the home "before" the purchase.
Proudly Serving These Mississippi Cities and Surrounding Areas:
Brandon, Clinton, Flora, Flowood, Jackson, Madison, Ridgeland, and All Surrounding Areas.
Bookmark/Search this post with