About Us
Echols Home Inspections, LLC is a locally owned and operated independent Mississippi Licensed Home Inspection Company based out of Jackson, Mississippi. When you call with questions or to book an inspection, you talk directly with the inspector; no salesperson, secretary or hired staff. My name is Tracy Echols, I will be your Inspector and I promise to take the time to get to know you, your situation and your concerns with the house. This enables me to provide you and your family with personal individualized service and to build a relationship with you that you can trust and count on for years to come. My home inspection areas include the cities of Jackson, Madison, Ridgeland, Brandon, Clinton, Canton, Flowood and all surrounding areas. You are welcome to contact me with any questions or concerns for as long as you own the house. These are details that the larger, multi-inspector companies can't deliver.
Echols Home Inspections, LLC
works for you and only you with your best interest in mind.

welcomes you and your agent to accompany me during the entire Jackson home inspection process (except for the roof for safety reasons) and ask any questions that you may have...this is a great way to learn the systems and components of your home.

provides excellent service during and after the inspection by adhering to the NACHI Standards of Practice and Code of Ethics.
I take great pride in providing detailed, informative and reasonably priced HomeGauge Inspection Reports (click for sample) for home buyers, owners and sellers throughout Central Mississippi.
A home inspection report from Echols Home Inspections, LLC is
detailed, informative and thorough.

clear, concise, easy to understand and filled with digital photos with descriptions and arrows to show you the exact issue.

all reports are stored online with HomeGauge's software program for 5 years for quick access and they are printable.

meets or exceeds the strict standards set by the Mississippi Home Inspector Board and the National Association of Certified Home Inspectors (NACHI)
Schedule your Jackson or Madison home inspection with Echols Home Inspections, LLC and find out why so many of our clients agree with Thomas P. of Madison, MS
"I love my Realtor for recommending you!"
Our Core Values
INTEGRITY
At Echols Home Inspections, LLC, integrity is the most important aspect of my business. I will act in your best interest always, from the moment you make the first phone call to the minute your report is delivered and for the entire time you own your Madison, Jackson, Brandon or Ridgeland home. My clients can count on having an honest, professional, ethical and unbiased home inspection company for many years to come. I want to be the only home inspector that you think of when it comes time for you to relocate in the Jackson or Madison area.
I will not offer to repair concerns I find during the home inspection.

I do not offer special privileges or promotions to individuals or companies that recommend my services.

I work for you and only you. You will be the individual purchasing the house and you deserve to know the issues with the house...good or bad!

I will not try to sell you any additional services for the home.
KNOWLEDGE
Knowledge of past and current building practices is essential in assisting you in making an educated decision in the purchase of or the selling of your home. I am constantly improving my skills as an inspector and expand my knowledge in the home inspection industry.
I use the most reliable and advanced inspection and testing tools in the industry.

As a member of NACHI, I fulfill a minimum of 24 hours of continuing education yearly.

If I don't know the answer to an issue with a home, I have a 24 hour tool of certified NACHI inspectors that can and will assist me in the discovery.
SERVICE EXCELLENCE
Once you order an inspection with Echols Home Inspections, LLC, you become a client for life. I am available from 7:00am to 10:00pm daily with any questions or concerns for as long as you own your Jackson area home.
I encourage you to accompany me during the home inspection. I also encourage you to ask any questions about the findings or express any concerns.

I provide a learning experience to you during the inspection with maintenance tips such as where shut off valves are located, areas to monitor, filter locations and many other items for concerned homeowners.

A Free 90 Day Warranty on the home! If I miss it...it's covered!!

A RecallChek on the Air Conditioner, Furnace, Water Heater and all major appliances is included at No Charge with every Jackson inspection. This service will check for recalls on on all of the appliances that were included with the purchase of your home and any new appliance purchases that you may have in the future.

A Free 1 year membership to Home Owners Network "HON" (AAA for your home) is also included with every Ridgeland, Clinton, Brandon or Jackson home inspection.

I focus on your individual needs before, during and after the inspection.

I usually spend 3 or more hours with every inspection in the Madison, Brandon, Clinton or Jackson area and you will receive the report within 24 hours (usually the same day).

I strive to make the home inspection as pleasant of an experience as possible as most of my business comes from prior clients and word-of-mouth referrals.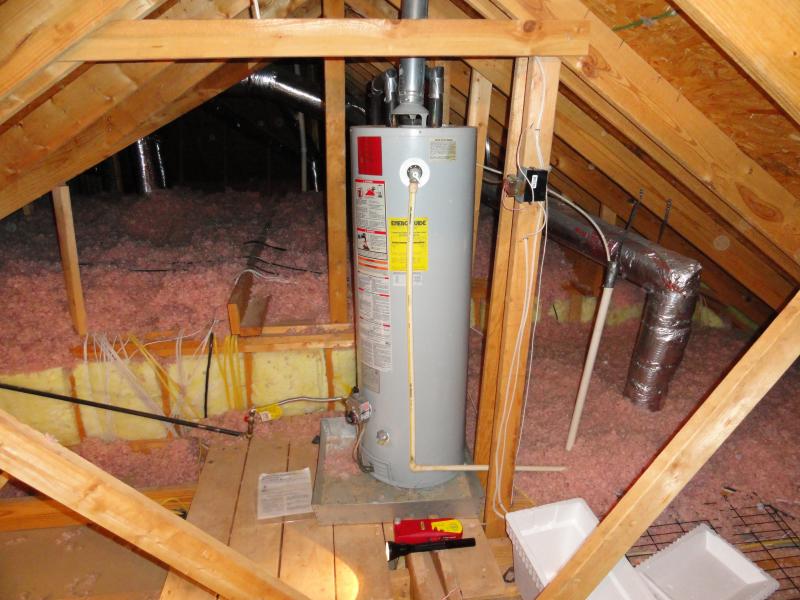 Attic View of a 2 Year Old Home in Flowood, MS
Proudly Serving These Mississippi Cities and Surrounding Areas:
Brandon, Clinton, Flora, Flowood, Jackson, Madison, Ridgeland, and All Surrounding Areas.
Bookmark/Search this post with